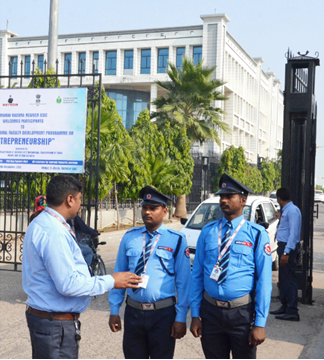 Training
As per the official policy of Westech. It's a mandate for every employee to undertake a comprehensive training course. This course also fulfills the requirement of minimum 160 hours of training before deployment as per the PSARA act of India.
The employees are taught the basics of First Aid, Firefighting and Self Defence, in addition to being taught basic guarding skills. The training process is continuous and progressive throughout the employees' career. This acts as a stimulus to refresh and further develop their knowledge.
Following are the primary topics covered in the training:
Internal basic security training, Refresher training, Continuous educational and skill development programs, Specialized training depending on client requirements, Security terminology training, SOP Defined Training, Awareness of surrounding in public, Notes of suspicious activities, Grooming and behaviours, Service Gate & Staff Entrance, Security Patrol, Usage of security equipment, Standard Phrases, Frisking & Vigilance
The Key areas of training involve:
Physical Training, Drills , Access Control/Gate Management, Visitor Control, Material Control, Building Security Management, Higher Education Institute Training , Evacuation and disaster management training, Firefighting, Traffic management, Residential Security Training, Crowd Control, Dealing with Strike, Bandh, Dharna by Employees/Students, First Aid, Contingency Plans.